ReSTOR IOL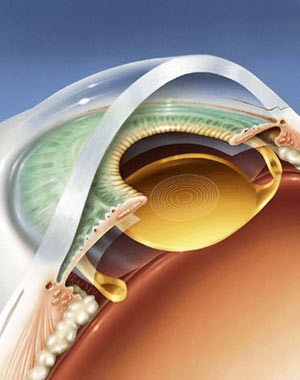 Huge medical advances have been made in the treatment of cataracts. Cataract surgery is generally a relatively simple outpatient procedure with little discomfort, requiring only a few hours and a topical anesthetic. Still, as with any surgical procedure, there are risks associated with cataract surgery—talk to your doctor for complete information about these risks, including precautions and warnings.
With more than 50 million implants in cataract surgeries worldwide, the AcrySof® family of lenses are the most frequently used intraocular lenses (IOLs) in the world, largely because physicians appreciate the long-term clinical results and unmatched stability.
The first multifocal IOL of its kind, the AcrySof® IQ ReSTOR® IOL draws upon decades of expertise and technology for an intraocular lens that truly helps cataract patients see it all—near, far, and everything in between—without the need for reading glasses or bifocals after surgery.
In a clinical trial, after having the AcrySof® IQ ReSTOR® IOL implanted in both eyes, at 6 months post-op, 78 percent of patients reported not needing glasses.
Nearly 94 percent of patients (implanted with the +3.0 D IOL) indicated that they would have the lenses implanted again, according to a patient satisfaction survey.
Here's what makes AcrySof® IQ ReSTOR® IOLs so unique:
The majority of modern IOLs are made from either silicone or a hard plastic called polymethylmethacrylate (PMMA), but AcrySof® IQ ReSTOR® IOL uses a soft, foldable acrylic, which makes implantation easier for the surgeon and more comfortable for the patient. A smaller incision also removes the need for stitches.
With AcrySof® IQ ReSTOR® IOL, patients with both cataracts and presbyopia can have both conditions corrected at the same time, eliminating the need for spectacles after surgery in most patients.
The chromophore filters blue light without impacting color vision or the quality of vision. Some visual effects may be expected including halos around light during low light or in night time conditions.
Considerations with multifocal IOLs
For many people, these IOL types reduce but do not eliminate the need for glasses or contact lenses. For example, a person can read without glasses, but the words appear less clear than with glasses.
Each person's success with these IOLs may depend on the size of his/her pupils and other eye health factors. People with astigmatism can ask their Eye M.D. about toric IOLs and related treatments.
Side effects such as glare or halos around lights, or decreased sharpness of vision (contrast sensitivity) may occur, especially at night or in dim light. Most people adapt to and are not bothered by these effects, but those who frequently drive at night or need to focus on close-up work may be more satisfied with monofocal IOLs.